Quality Oriented and ISO Approved Nickel Outlet, Nickel 200 Outlet, Nickel Alloy 201 Outlet Manufacturer in India
Nickel Olets Pipe Fittings Suppliers In Mumbai India
We Keep the stock of Nickel Outlet Pipe Fittings Manufactured using Standards – ASME/ANSI B16.11, MSS SP-97, MSS SP-79, BS3799 with size range 1/8" NB to 4″ NB in Sch 10s, 40s, 80s, 160s, XXS (DN6~DN100) to satisfy any urgent small or large domestic and international inquiries at reasonable prices.
India's one of the Leaders Amongst Manufacturers, Stockist, Exporters, and Global Suppliers of ASME/ANSI B16.11 / MSS SP-97 / ASME SB366M Nickel Outlet Elbow, Tee, Reducers, Cross, Nickel Seamless/Welding Outlet Fittings, Nickel Alloy 200 Socketweld Outlets, Nickel 201 Elbow Outlets, 200 Nickel Alloy Lateral Outlets, Nickel Alloy 201 Outlets Fittings, ASTM B366 Nickel UNS N02200 Welding Outlet, Nickel 200 Outlets
Food Processing Dairy Industry
Industries We Served Happily
We offer huge stock of odd sizes & hard to find Standards – UNS, JIS, BS, GOST, AFNOR, EN, AISI Nickel Outlet Pipe Fittings offering in Grade 200, 201 at market leading great prices from Mumbai, India.
Nickel Outlet Pipe Fittings Specifications
| | |
| --- | --- |
| Specifications | ASTM B366 & ASME SB366 |
| Dimension Standard | ASME / ANSI B16.11, MSS-SP-97, MSS-SP-79, JIS B2316, BS 3799 |
| Standard Size Range | 1/8"-4" (DN6-DN100) |
| Manufacturing Type | Fabricated / Seamless / Welded / ERW |
| Bending Radius | R=1D, 2D, 3D, 5D, 6D, 8D, 10D, or Custom |
| Wall Thickness / Schedule | SCH5, SCH10, SCH20, SCH30, SCH40, STD, SCH80, XS, SCH60, SCH80, SCH120, SCH140, SCH160, XXS |
| End Connection | Welded, threaded, BW, SW |
| Value Added Services | Hot Dipped Galvanizing, Electro Polish, Sand Blasting, Epoxy & FBE Coating, Threading, Soldering |
| Other Standards | MSS SP-97, ISO, SNSI, JIS, DIN, GB, DIN2617, JISB2311, JISB2312, JISB2313 / T12459GB / T13401, SH3408, SH3409HG / T21635HG / T21631SY / T05010 |
| Materials | Nickel 200, 201 Outlets |
| Process | Free forging, plate cutting .forged |
We are a renowned Manufacturer, Supplier and Exporter that uses high grade raw materials for the assembly of those nickel-base alloy Outlet Fittings. Also, we provide a wide selection of nickel-base alloy ASTM B366 Outlets like Nickel 200 Welding Outlets, 201 nickel alloy Threaded Outlets, ASTM B366 Nickel 200 Socket Weld Outlets, nickel-base alloy 201 Elbow Outlets, 201 Alloy Lateral Outlets, 200 nickel alloy Nipple Outlets, etc. We are having decades of experience in supplying and exporting Nickel Outlet Fittings to vary countries like the UAE, Vietnam, Czechia, Turkey, Thailand, Italy, Iran, Philippines, Qatar.
ASME B366 nickel alloy 200 Sweep Outlets is an integrally reinforced butt weld branch connection. ASTM B 366 nickel-base alloy 200 /201 Outlets are utilized in oil and gas transmissions and it provides an honest flow pattern. Nickel Alloy UNS N02200 Threaded Outlet are used for threaded branch connections. These Nickel 200 /201 Outlets are offered to the purchasers in customizable sizes to supply the final word convenience. There are a spread of products that come under the 2 sorts of nickel-base alloy. The kinds are nickel alloy 200 and nickel alloy 201. ASME SB 366 nickel DIN 2.4066 Socket Weld Outlets are utilize for the aim of socket weld branch connections that are in requirement of a reinforcing pad.
ASTM B366 Nickel Outlet Pipe Fittings Types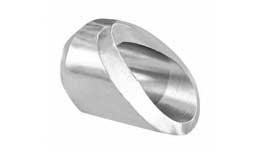 Price Range: $35.00 – $100.00 / Piece
Price Range: $1.00 – $50.00 / Piece
NOTE: Price may vary according to the Market Standard, Total Quantity Ordered and Type of Material(Grades). Contact Us for Further Queries.
Nickel Weldolet
B366 Nickel 200 Weldolet is the most typical of all branches connections, and is welded onto the outlet pipe. The ends are beveled to facilitate this process, and thus the weldolet is considered a butt-weld fitting. Nickel Alloy 201 Weldolet are designed to reduce stress concentrations and supply integral reinforcement.
Nickel Sockolet
B366 Nickel 200 Sockolet utilizes the essential however, the branch affixes by the way of a socket inside the olet. The bore matches the outlet bore, and therefore, the existence of a counter bore roughly the dimensions of the OD of the outlet provides a socket where the pipe can sit, facilitating installation and welding. The Nickel Alloy 201 Sockolet is considered a socket fitting, and manufactured in 3000#, 6000# and 9000# classes.
Nickel Thredolet
B366 Nickel 200 Thredolet utilizes the essential however, the branch affixes by the way of a thread just inside the highest of the olet. The bore matches the outlet bore, and therefore, the existence of this threading facilitates installation, as not welding is important. The Nickel Alloy 201 Thredolet is considered a threaded fitting, and made in 3000# and 6000# classes.
Nickel Nipolet
B366 Nickel 200 Nipolet is a one piece fitting for valve take-offs, drains, and vents. Manufactured for Extra Strong and Double Extra Strong applications in 3.1/2in to 6.1/2 in lengths. Available with male-socket weld or male threaded outlets.
Nickel Sweepolet
B366 Nickel 200 Sweepolet is a contoured, integrally reinforced, butt-weld branch reference to a low stress intensification factor for low stresses, and long fatigue life. Manufactured to satisfy your specific reinforcement requirements.
Nickel Insert Weldolet
B366 Nickel 200 Insert Weldolet is another contoured butt weld branch connection used in critical applications. Like the attachment welds are easily examined by radiography, ultrasound and other standard non-destructive techniques. Manufactured to satisfy your specific reinforcement requirements.
SB366 Nickel Outlet Fittings Equivalent Grade Chart
| STANDARD | WERKSTOFF NR. | UNS | AFNOR | EN | JIS | BS | GOST |
| --- | --- | --- | --- | --- | --- | --- | --- |
| Nickel 200 | 2.4066 | N02200 | N-100M | Ni 99.2 | NW 2200 | NA 11 | НП-2 |
| Nickel 201 | 2.4068 | N02201 | – | LC-Ni 99 | NW 2201 | NA 12 | НП-2 |
Chemical Composition of Grade 200 Nickel Outlets, Alloy 201 Outlet
| Grade | C | Mn | Si | Fe | Ni | S | Cu |
| --- | --- | --- | --- | --- | --- | --- | --- |
| Nickel 200 | 0.15 max | 0.35 max | 0.35 max | 0.40 max | 99.0 min | 0.01 max | 0.25 max |
| Nickel 201 | 0.02 max | 0.35 max | 0.35 max | 0.40 max | 99.0 min | 0.01 max | 0.25 max |
Mechanical Properties of ASTM B366 Nickel Outlets
| Element | Density | Melting Point | Elongation | Tensile Strength | Yield Strength (0.2%Offset) |
| --- | --- | --- | --- | --- | --- |
| Nickel 200 / 201 | 8.9 g/cm3 | 1446 °C (2635 °F) | 45 % | Psi – 67000 , MPa – 462 | Psi – 21500 , MPa – 148 |
Feature of Nickel 200/201 Outlets
Excellent corrosion resistance
Durability
Versatile nature
Flexibility
Offer optimum performance
Available Grades Of Nickel Alloy Outlet Pipe Fittings
| | |
| --- | --- |
| Nickel 200 Outlet | Nickel 201 Outlet |
Top Nations We Export and Supply Nickel 200/201 Outlet Pipe Fittings
Afghanistan
Algeria
Angola
Argentina
Australia
Austria
Azerbaijan
Bahrain
Bangladesh
Belarus
Belgium
Bhutan
Bolivia
Brazil
Bulgaria
Canada
Chile
China
Colombia
Costa Rica
Croatia
Czech Republic
Denmark
Ecuador
Egypt
Estonia
Finland
France
Gabon
Ghana
Greece
Hong Kong
Hungary
India
Indonesia
Iran
Iraq
Israel
Italy
Japan
Jordan
Kazakhstan
Kenya
Kuwait
Lebanon
Libya
Lithuania
Malaysia
Mexico
Mongolia
Morocco
Netherlands
New Zealand
Nigeria
Norway
Oman
Pakistan
Peru
Philippines
Poland
Portugal
Qatar
Romania
Russia
Saudi Arabia
Serbia
Singapore
Slovakia
South Africa
South Korea
Spain
Sri Lanka
Sweden
Switzerland
Taiwan
Thailand
Trinidad & Tobago
Tunisia
Turkey
Ukraine
United Arab Emirates (UAE)
United Kingdom (UK)
United States (US)
Venezuela
Vietnam
Yemen
---
Aberdeen
Abu Dhabi
Afghanistan
Ahmedabad
Ahvaz
Al Jubail
Al Khobar
Algiers
Ankara
Atyrau
Bangkok
Bengaluru
Bhopal
Bogota
Brisbane
Busan
Cairo
Calgary
Caracas
Chandigarh
Chennai
Chiyoda
Coimbatore
Colombo
Courbevoie
Dallas
Dammam
Doha
Dubai
Edmonton
Ernakulam
Faridabad
Geoje-si
Gimhae-si
Granada
Gurgaon
Hanoi
Haryana
Ho Chi Minh City
Hong Kong
Houston
Howrah
Hyderabad
Indore
Istanbul
Jakarta
Jeddah
Karachi
Kolkata
Kuala Lumpur
Kuwait City
La Victoria
Lagos
Lahore
London
Los Angeles
Ludhiana
Madrid
Manama
Melbourne
Mexico City
Milan
Montreal
Moscow
Mumbai
Muscat
Navi Mumbai
New Delhi
New York
Noida
Perth
Petaling Jaya
Pimpri-Chinchwad
Port-of-Spain
Pune
Rajkot
Rio de Janeiro
Riyadh
Santiago
Secunderabad
Seoul
Sharjah
Singapore
Surat
Sydney
Tehran
Thane
Thiruvananthapuram
Toronto
Ulsan
Vadodara
Visakhapatnam
Vung Tau
ASTM B366 Nickel 200/201 Outlet Fittings Applications
| | | | |
| --- | --- | --- | --- |
| Off-Shore Oil Drilling Companies | Power Generation | Gas Processing | Petrochemicals |
| Pharmaceutical Equipment | Specialty Chemicals | Chemical Equipment | Pharmaceuticals |
| Pulp & Paper Industry | Sea Water Equipment | Heat Exchangers | Condensers |